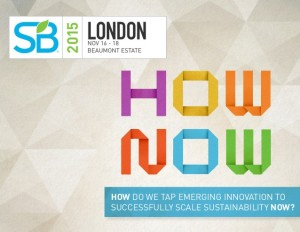 SB15 took place in London last week. A day of research workshops, and 2 days of brand/business presentations. All aiming to inspiring us with HOW NOW. Although there was a little of WHAT NOW? And HOW? And WHY on EARTH? there was indeed a fair smattering of inspiration.
Highlights included:
– Prince EA; devastatingly passionate, articulate and moving in his mission to get the world to wake up to the awful legacy we are leaving. And he didn't half make us all feel white, uncool, middle aged and middle class. And that's even with a fair smattering of well dressed continental europeans balancing out us habitually drearily dressed Brits…
– BBMG; great summary of the rise of 'aspirationals' as an attitude that supercedes 'Generation X/Y/Z' etc. Average age 40, more likely to be parents, highly engaged in shopping and brands, feel we need to consume less to preserve the environment, and have high optimism that the future will have a higher quality of life than today. Made the point that these people think more deeply, can be offended by brands, and we need to give them something to believe it to engage them.
– Tom Szarky from Terracycle showing us latest interesting stuff in upcycling and recycling – it's really come a long way since I started looking into this 15 years ago, but we have so far to go still.
– Ivo Gormley founder of goodgym, connecting runners with community work particularly for the elderly. A really social enterprise that stirred the heart.
– Mud jeans & pavegen, which are great little eco entrepreneurial businesses that have enormous potential, ones to watch.
And of course, my lovely client Anna Swaithes of SABMiller, who saved a surpisingly dull session (on the new UN Global Goals on sustainability) by wowing the crowd with a few of my favourite cases studies from their leading edge work – respect was definitely due to Haywards 5000 (India), Eagle (Uganda), and Poker (Colombia).
More indepth thoughts to follow… but if you weren't there… why not?!